What is Umbraco?
Umbraco is a free and open-source ASP.NET and C# content management system that runs on the.NET (dot NET) platform from Microsoft. Umbraco provides exceptional scalability, security, and flexibility to developers. It also goes by the moniker "the friendly CMS" and offers content editors and users a user-friendly interface and intuitive editing process.
A group of specialists at Umbraco HQ, the organization that created the CMS, manage Umbraco. However, because Umbraco is open-source, anyone may contribute to the CMS's development and it is created by a committed global community. More than 220000 active members of the Umbraco community contribute pull requests to the CMS and assist other users in maximizing their use of Umbraco.
More than 700000 installations are operational right now, and Umbraco offers more than 1200 free packages.
Niels Hartvig developed Umbraco in its open-source form in 2005. Umbraco's main office is in Odense, Denmark, and a US office was established in Charlotte, North Carolina, in 2020.
What is the purpose of Umbraco?
Umbraco CMS is appropriate for both freelancers, small agencies, and large enterprises due to its flexibility and scalability. You can make anything, from straightforward blog entries to flexible campaign websites, with very little training.
You can use Umbraco to build projects of different kinds and scopes - there are no limitations to what Umbraco can be used for:
Websites
Webshops
Intranets
Headless solutions
Umbraco 11
Umbraco CMS is now running .NET 7 with all the features and improvements the new framework brings. On top of that, you get a brand Block Grid Editor, that is sure to delight developers and content editors alike. With a new marketplace for packages and integrations, overhauled documentation, and updates for both Umbraco Forms and Deploy, there's plenty to be excited about for Umbraco 11 and beyond.
Umbraco 11 - not just a CMS release
Another milestone can be checked off the list with today's release of Umbraco 11. Numerous updates, improvements, and new features for developers and editors alike help make this another solid major release for Umbraco.
This time it's not just the CMS that is getting updates though. Along with version 11, you also get a shiny new Umbraco Marketplace, for browsing packages, integrations, and Tech Partners, directly from the backoffice or the new website. Documentation for Umbraco 11 is also found a new home, with much-improved discoverability, search, and more.
Let's not get ahead of ourselves, first up is a look at the new features and improvements in Umbraco 11.
On the latest version of .NET
Hot on the heels of Microsoft's release of .NET 7, Umbraco CMS is ready with full support for the new version of the framework. And there are plenty of things to be excited about.
By starting new projects, or upgrading existing ones to Umbraco 11, everyone gets to enjoy the benefits of the new version.
Powerful improvements for developers
Both .NET 7 and ASP.NET Core 7 contain a long list of new features and improvements that make development easier and faster, and - just like with Umbraco 10 - you get access to the latest C# version. C#11 adds many new features, not least new functionality for working with raw string literals, meaning you can write much cleaner and more readable code, without having to escape special characters.
What's new in Umbraco 11
New Property Editor: Block Grid Editor
The Block Grid Editor is a new Property Editor focusing on bringing better layout and content structure capabilities to editors. Taking a cue from the popular Grid Layout editor that has been delivering layout capabilities for content editors since Umbraco 7, the Block Grid Editor is built on modern and future-proof technology and provides a vastly improved developer experience on top.
Building Blocks
As you might have guessed from the name - Block Grid Editor - everything is now based on Blocks (Element Types) which allows developers to craft tailored editing experiences and content structures using known conventions. If you're at all familiar with the Block List Editor (or Nested) you'll be right at home.
Using Blocks and Element Types allows you to configure content and settings in a much easier way than with the old Grid Layout editor. You can now use Property Editors to create the Blocks. This means you have many more options and tools available out-of-the-box to tailor the editing experience.
Laying out a Grid
There are two different ways of controlling the layout in the Block Grid Editor. Size Options for individual Blocks, and Areas that create predefined content areas, essentially allowing you to nest your grids and control the functionality of these nested grids. This is done to give flexibility in how you work with layout and allow for varying degrees of freedom and creativity.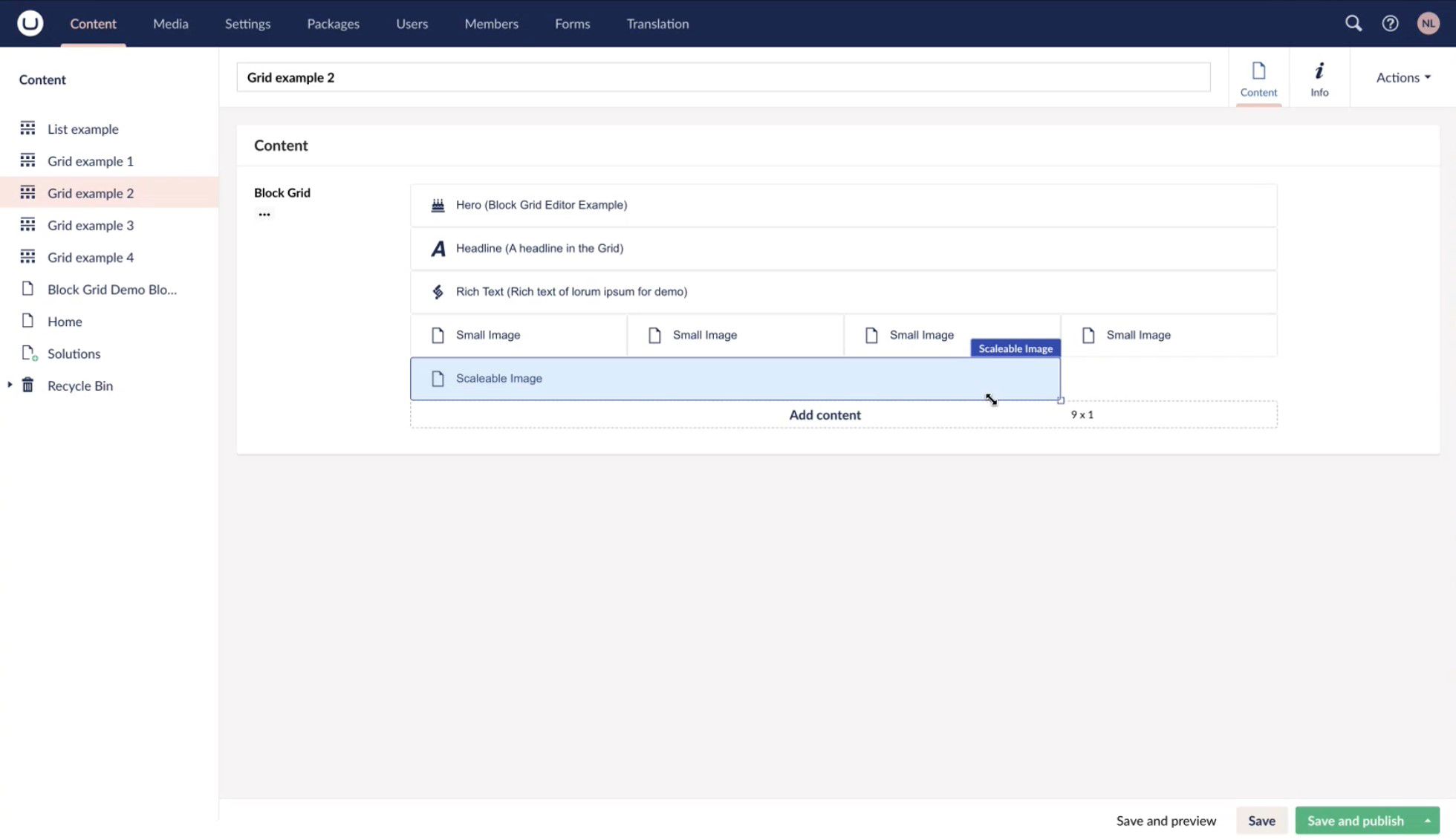 You can use predefined layouts or a more free-form layout experience where you can resize individual elements.
And you of course get all the features you're used to from the Block List Editor such as adding Settings, drag and drop re-ordering, copy/paste blocks, and Property Actions, all in a familiar editing interface.
Advanced Configuration
With the features listed above, you can create a flexible content editing experience focusing on freedom and creativity or predefined layout structures - or maybe even a combination of both.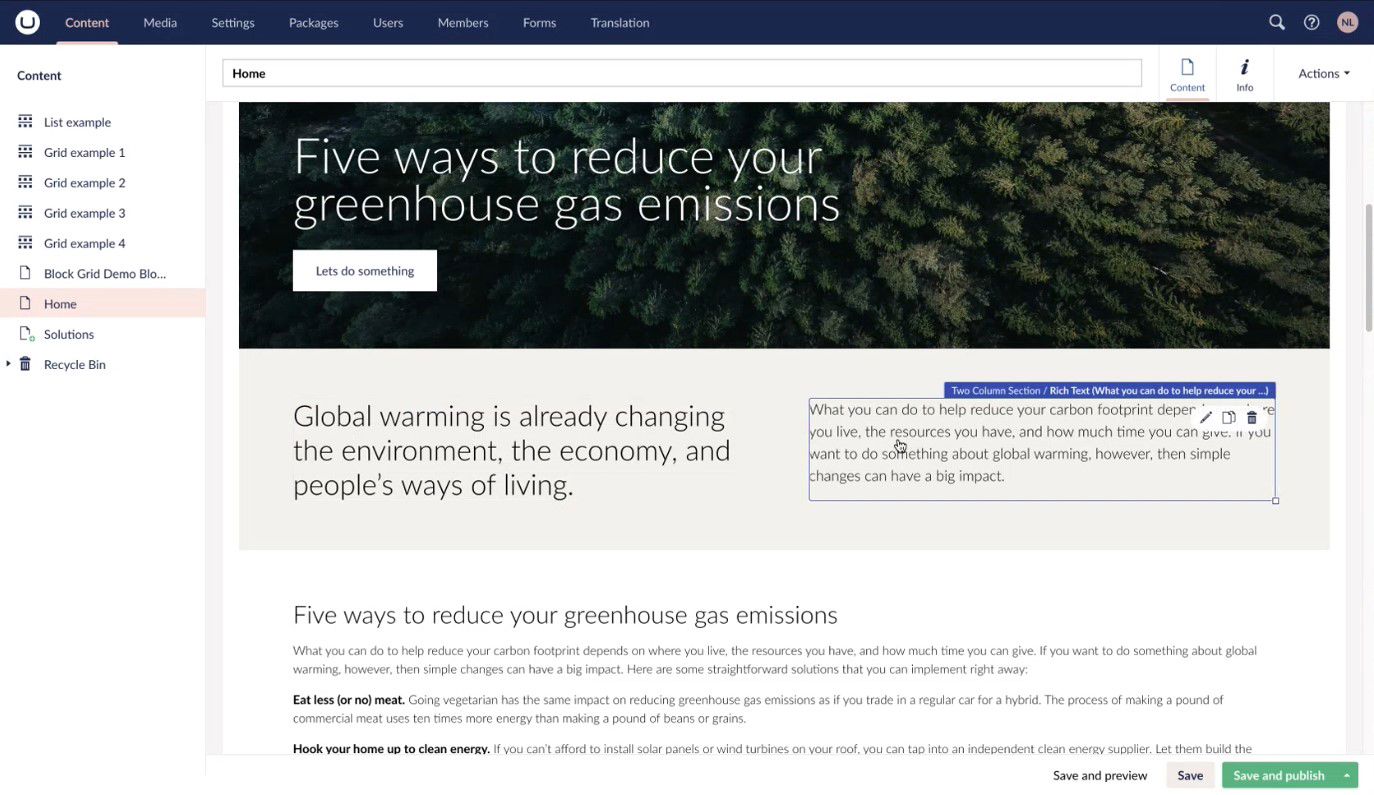 There are Advanced configuration options that allow you to add custom views and stylesheets, control the size of the overlay for a Block, and hide the content edit button if you're creating an inline editing experience or pulling in data that can't be edited. These are useful tools but not necessary for creating a good editing experience. Still, they can help make a highly customized editing experience that makes your editors happy, and more easily achievable than ever before.
Making a Beautiful Frontend
Having good configuration and a great editing experience is not the full job though - it also needs to translate into something great on the front end. As with all things Umbraco, you have full control over markup and CSS.
There are helper methods to render Block Grid content. You can either use the example rendering that ships with Umbraco or create your own custom renderer. You can also create partial views for your custom Blocks and it all comes with full support for Models Builder so as a developer you can with strongly typed models with the Block Grid Editor.
Getting Started with the Block Grid editor
First, there is extensive documentation for the Block Grid Editor covering all the topics mentioned above.
When you add a new Block Grid Editor to your installation, you get the option to add a sample configuration that adds a few simple blocks such as Headline and Rich Text, and you can start from there. This is very similar to the default configuration that shipped with the old Grid Layout editor but now it is optional.
Best Recommended Umbraco 11 Hosting Provider
ASPHostPortal Windows Hosting is 100% Compatible with Umbraco 11
The web hosting plans offered by ASPHostPortal, a technology-focused web host, are built to accommodate popular web development tools. Hosting for Windows and Umbraco 11 is the foundation of their business model. For mission-critical hosting of applications created on these platforms, ASPHostPortal has more than ten years of combined experience in.NET, PHP, Network Administration, System Integration, and related technologies.
ASPHostPortal is Microsoft No #1 Hosting Partner
ASPHostPortal.com is Microsoft No #1 Recommended Windows and ASP.NET Spotlight Hosting Partner in United States. Microsoft presents this award to ASPHostPortal.com for ability to support the latest Microsoft and ASP.NET technology, such as: WebMatrix, WebDeploy, Visual Studio 2015, ASP.NET 5, ASP.NET MVC 6, Silverlight 6 and Visual Studio Lightswitch.
ASPHostPortal Umbraco 11 Hosting is Affordable
ASPHostPortal.com offers eight Windows hosting packages, dubbed Host Intro, Host One through Host Seven, for costs ranging from $1.00/mo to $70.00/mo. There are three distinct billing cycles, each with a different pricing. The primary plan, for instance, has monthly rates of $5.00 for a 3-year term, $6.00 for a 1-year term, and $11.00 for a 3-month term.
ASPHostPortal Umbraco 11 Hosting Speed and Uptime
In terms of uptime, ASPHostPortal fully fulfills its 100% claim. The success of ASPHostPortal is a result of its top-notch data centers, cutting-edge technology, and numerous engineers' dedication.
The US (Washington & Seattle), the Netherlands (Amsterdam), Singapore, Hong Kong, the United Kingdom (London), Australia (Melbourne), France (Paris), Germany (Frankfurt), Italy (Milan), India (Chennai), Canada (Toronto), and Brazil (Sao Paulo) are just a few of the countries where ASPHostPortal has various data centers.You can relax knowing that your dedicated servers or websites are managed, secured, and monitored in a cutting-edge facility, and that as a customer you have access to their engineers and the best support staff.
Best Recommended UK Umbraco 11 Hosting Recommendation
UKWindowsHostASP.NET Using Premium Servers For Their Umbraco 11 Hosting
Using Premium servers from Dell, UKWindowsHostASP.NET is able to consolidate web, messaging, database, and file/print services while also providing superior speed, availability, and flexibility for your expanding network infrastructure applications.
UKWindowsHostASP.NET Has WordClass Data Center
From locations all around Europe, UKWindowsHostASP.NET offers hosting and data center services that are available globally and on demand. They make use of industry-leading, completely automated solutions that innovate using the latest connectivity and technology available, giving businesses total access, control, security, and scalability. The four prominent European locations of London (UK), Amsterdam (Netherlands), Frankfurt (Germany), and Paris (France) are where their servers are situated.
UKWindowsHostASP.NET Has Excellent Uptime Rate
Their ability to keep their server uptime rate high is their significant differentiator in providing the service to you. They actually understand that it will harm your internet business and are never ever glad to see your site go down.
UKWindowsHostASP.NET is Microsoft No #1 UK Hosting Partner
Microsoft's No. 1 Recommendation for Windows and ASP.NET Hosting in Europe is UKWindowsHostASP.NET. In many prominent European nations, including Germany, Italy, the Netherlands, France, Belgium, the United Kingdom, Sweden, Finland, and Switzerland, their service is ranked first.
Best Recommended India Umbraco 11 Hosting Recommendation
WindowsASPNETHosting.IN is The Best India Umbraco 11 Hosting
One of the finest Umbraco 11 hosting companies in India is WindowsASPNETHosting.IN. An innovative web hosting company called WindowsASPNETHosting.IN has been chosen by a team of skilled professionals. More than 10,000 websites around the world rely on it for outstanding Umbraco 11 hosting solutions, and it has earned the respect of webmasters ranging from independent contractors and small businesses to large corporations and enterprises.
WindowsASPNETHosting.in Offers Uptime Guarantee
As the most dependable web host, WindowsASPNETHosting.in promises a minimum uptime of 99.9%, ensuring that clients' websites are always reachable online. This is due to the fact that the business uses DELL servers that are entirely factory constructed and tested, equipped with SSD, RAID 5, 2x AMD Opteron 4226, and 32GB of RAM to maximize uptime to the fullest.
WindowsASPNETHosting.in Has Expert Customer Service
As customer service is the most essential part in web hosting, WindowsASPNETHosting.in spares no effort to satisfy every customer. This company owns a team of passionate and professional technical staffs, who are accessible twenty-four hours one day and seven days one week, even deep at night. In view of the support way, WindowsASPNETHosting.in makes customers well-prepared with email ticket. It contains quantities of hosting related articles in the knowledgebase, which is placed right under the support section.
Additionally, WindowsASPNETHosting.in places these high-quality and reliable web servers using the power of a top-notch data center. The data center is rented from NWT, the biggest IDC in India. It has a firewall to block unnecessary ports, tier 3 telecom provider to shorten the network path, UPS for continuous and stable power supply, advanced cooling system for climate control, and DDoS response to prevent malicious attacks.
WindowsASPNETHosting.in is Microsoft No #1 India Hosting Partner
WindowsASPNETHosting.in is the India's #1 Windows hosting provider that offers the most reliable world class Windows hosting solutions for their customers. WindowsASPNETHosting.in provides high quality affordable India's Windows hosting services for personal and companies of all sizes. Host your website with an innovative, reliable, and a friendly India's Windows hosting company who cares about your business.