Want to accept payments on your WordPress site using WooCommerce? If you're starting a new eCommerce business, figuring out which payment gateway to use can be a daunting task.
The complexity and sheer number of options available could be enough to scare you away from starting an online business altogether – and that's not a good thing!
Not to worry – we've created a list of the top payment gateways that integrate well with WooCommerce. We've made it easy to find one that works and then get back to building your business.
In this article, you'll learn what a payment gateway is and why you'll need one to accept payments on your WordPress site. Then, you'll learn about the different aspects of choosing a gateway. Finally, we'll go through the top five payment gateways.
Ready to begin?
What Is a Payment Gateway?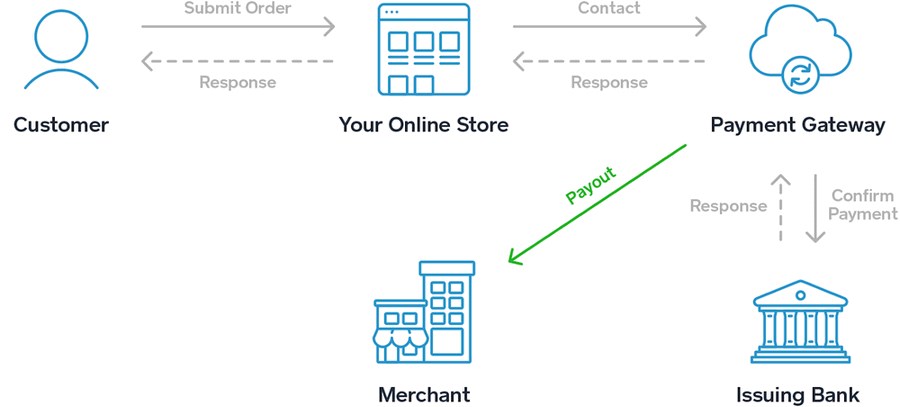 A payment gateway is a platform through which you can accept payments. Rather than going through all the financial and legal hassles required to process money yourself, you can simply sign up for a third-party payment gateway that will handle it all for you. Pretty nifty huh?
The payment gateway handles your customers' credit card numbers, expiration dates, and other personal information securely so that you don't have to.
It also makes the entire transaction less anonymous and more transparent. Some of the most well-known payment gateways are Stripe, PayPal Pro, and Authorize.net.
There are two basic kinds of payment gateways that you can use on your website:
A payment form that is directly in your store. This means that the customer never leaves your website. Most major eCommerce sites like Amazon or Shopify work this way.
A payment form that is on the payment gateway's website. For the customer to pay, they need to click a link, which goes to the payment gateway's website. PayPal is a prime example of this.
Usually, it is better to have the form on your website as it cuts down the number of steps required to purchase.
How Does a Payment Gateway Work?
Payment gateways are fairly straightforward to set up.
You create an account via one of the following gateways below
Link the account to your business/personal bank account
Add the payment gateway to your website. Most gateways also offer plugins that quickly connect to WooCommerce, like Authorize.net or Stripe
Now, you're ready to accept payments. When a customer purchases something, the gateway opens a secure link to the payment processor, the transaction is approved, WooCommerce receives a "success" message and the transaction is completed.
Finally, you receive the money in your account, either immediately or within a few days, depending on the gateway. The entire process happens in less than a few seconds!
WooCommerce and WooCommerce Payments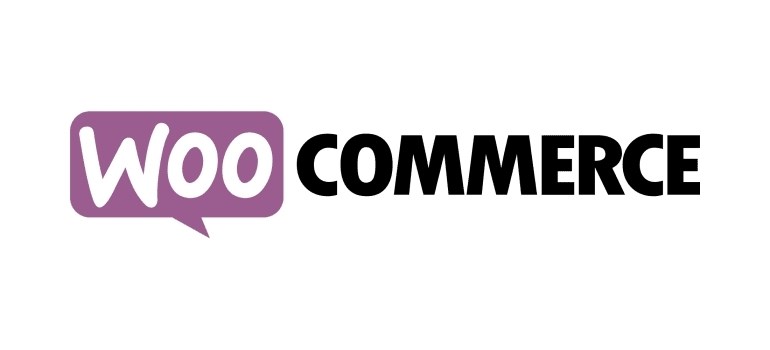 Chances are, if you're using WordPress for an eCommerce site, you're probably using WooCommerce. You're in good company if you are!
WooCommerce is one of the most widely used eCommerce platforms in the world. Here are some impressive stats, courtesy of HostingTribunal.com:
Over 4 million websites are currently using WooCommerce
WooCommerce is used by about 7% of all sites on the internet
WooCommerce powers over 28% of all online shops / eCommerce sites
There are almost a thousand plugins for WooCommerce
As you can see, WooCommerce is extremely popular! WooCommerce is compatible with over one hundred payment gateways, giving you a ton of options to choose from.
Factors to Consider When Assessing WooCommerce Payment Gateways
Transaction Fees
Every payment gateway has different transaction fees applied every time a card is charged or for every purchase.
These fees usually have two components:
A percentage of the transaction. Most transaction fees are between 2.5% and 3.5%
A small fee for each transaction. This is usually around $0.30
Payment gateways all have different transaction fees, however, most are competitive with each other. The specific fee applied will also vary depending on the type of transaction, e.g., whether it is paid via invoice, chip credit card and so on.
We'll examine the specific costs of each payment gateway in a little while, but below is a quick overview:
| | |
| --- | --- |
| Payment Gateway | Transaction Fee |
| Stripe | 2.9% + 0.30 per transaction |
| PayPal Pro | 2.9% + 0.30 per transaction |
| Square | 2.65% + $0.30 per transaction |
| Authorize.net | 2.9% + 0.30 per transaction |
| Amazon Pay | 2.9% + 0.30 per transaction |
| Apple Pay | None |
| Alipay | Free |
Operational Costs
Unfortunately, transaction fees aren't the only kinds of fees you'll need to worry about. Some payment gateways also charge monthly fees, extra fees for certain types of transactions, and other charges.
Before selecting a gateway, make sure that it will work well with your particular type of business.
Depending on the type of products you sell, certain payment gateways might charge you extra for recurring or subscription-based payments, while others don't offer the feature at all.
If you plan to sell primarily to customers outside of your own country, don't choose a service that has high international fees. If your customers prefer to pay by check or cash and not debit cards, don't choose a service that charges high offline fees. You get the idea.
WooCommerce Compatibility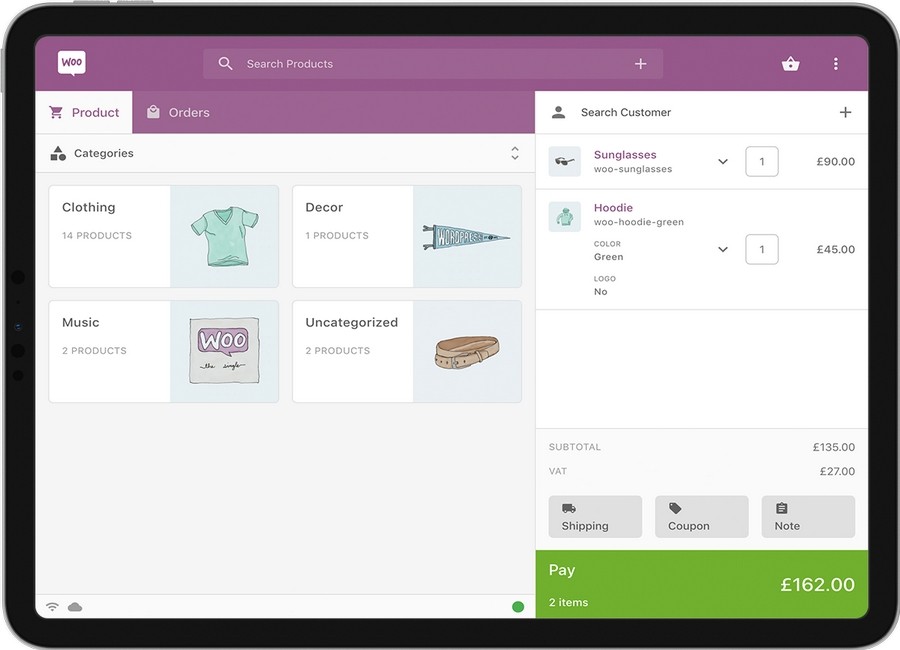 It makes things a lot easier if your payment gateway has a WordPress plugin. For example, WooCommerce has plugins for Stripe, PayPal Pro, Square, Authorize.net and numerous other gateways. Using one of these will make life much easier over the long term.
Since these plugins automatically manage the connection between WooCommerce and their respective payment gateways, the setup and maintenance on your end is much lower. Without them, you'll need to manually figure out how to connect the various steps, which can be very difficult if you're not familiar with the technology..
Ease of Use
Running a business is difficult. Don't add to the challenge by picking a payment processor that is confusing or difficult to use. Financial services are complicated enough as it is without adding an extra level of complexity to the process!
Some services are known for being easier to use than others. Stripe, for example, has built a reputation over the last decade as being one of the most user-friendly payment processors around. Square is also designed to be plug-and-play, with minimal setup required.
Payment Gateway Type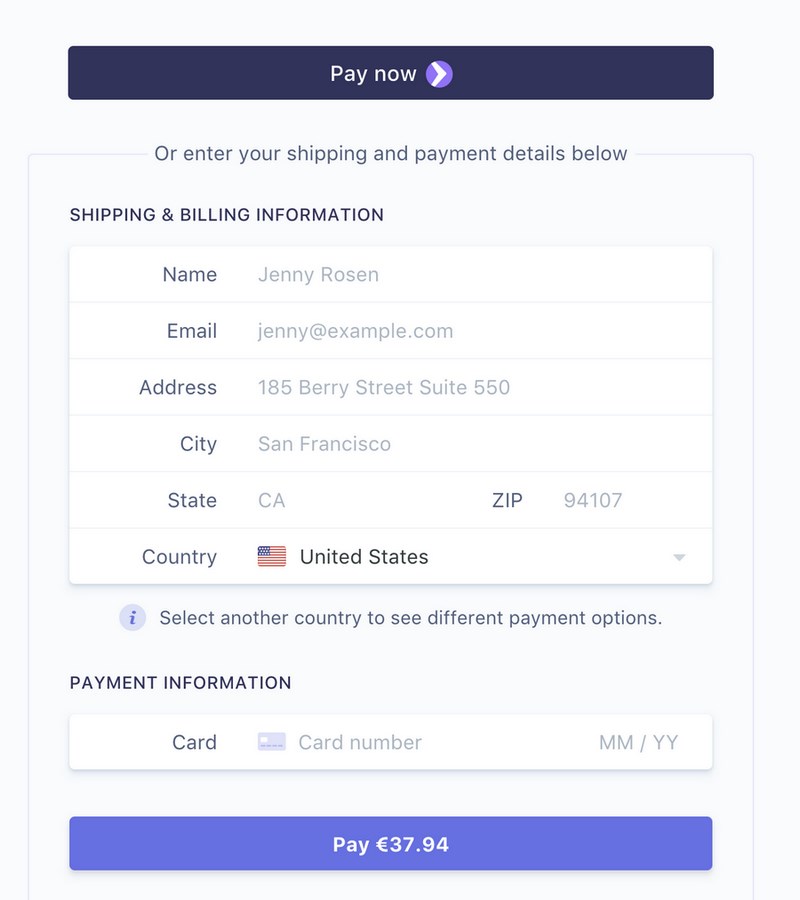 As we mentioned above, there are a few kinds of payment gateways. Some will allow you to display the entire payment process on your own website, while others will require your customers to pay directly on their secure site.
In general, you should try to use a payment gateway that is on your own website, as it looks more professional. However, it's not a deal-breaker if your preferred payment gateway doesn't allow you to do so.
Payment Methods Available for the Customer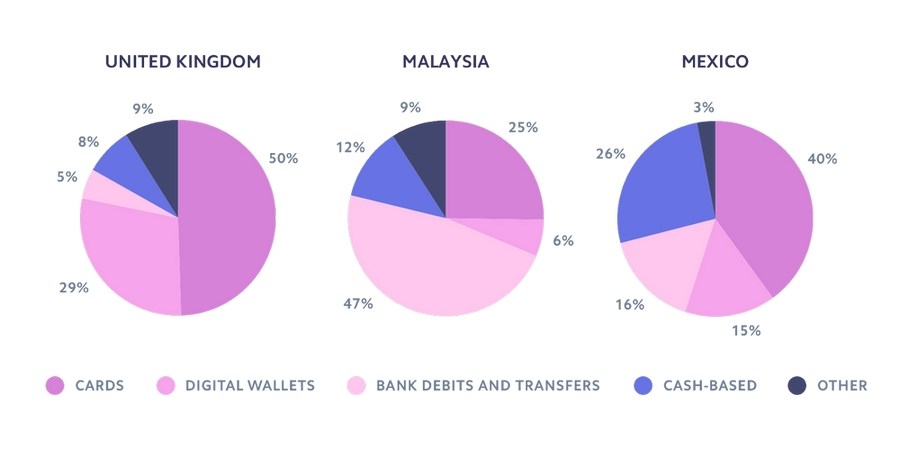 Some payment gateways will restrict you to only accepting credit cards, while others will allow you to accept Bitcoin, PayPal or bank transfers.
The more ways your users can pay, the better. Since some customers will only be able to pay you with certain payment methods, it's best to cover as many as possible. For the most part, there are no downsides to having many methods available.
Support in Your Country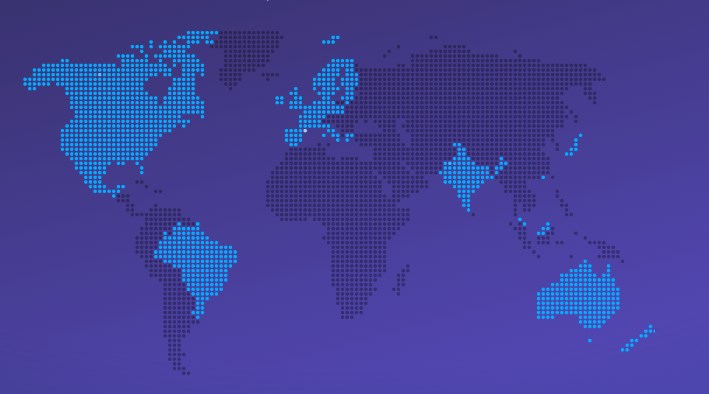 Unlike many other online businesses, payment gateways are often geographically limited due to legal restrictions. If you are, for example, in the Middle East or Africa, you may have some challenges with using American payment processors.
Additionally, it is helpful if the company has support staff that speak your native language. This is especially important for complex technical issues, where communication is really important. There's nothing more frustrating than trying to explain a complex problem to someone that doesn't speak your language!
Currency

Likewise, you should make sure that your payment gateway supports currency conversion and does so affordably. Certain gateways also charge high fees for transferring between different currencies, especially uncommon ones.
Consumers like to pay in their own currency, so offering it as an option is always a great idea to increase purchases. It also makes your store seem internationally-focused, which is great for your brand image.
Security

Finally, when it comes to payments, there is nothing more important than security. If your payment process isn't secure, you are leaving both you and your customers vulnerable to data loss and other issues. That includes technological, financial and even legal problems.
Thankfully, virtually every payment gateway is secure, as long as you use it correctly. Most make it easy to be compliant with PCI and other local/regional regulations.
Customers have to trust you before they'll be willing to buy something. By showing that you have a secure payment system set up, you communicate that purchasing a product from you is safe and reliable.
The Top WooCommerce Payment Gateways
In this list we will go through the top 7 payment gateways you can use with WooCommerce.
1. Stripe

Stripe is one of the most popular payment gateways on the market, largely because of its clean design, ease of use, and developer-friendly documentation and setup. Millions of businesses use Stripe, including Shopify, Amazon, Peloton, Squarespace, and Kickstarter.
You can accept over a dozen forms of payment via customizable forms. These forms can be embedded on your site.
The dashboard's reporting features are extensive and include monthly transaction history, monthly totals by category, managing refunds and disputes, and monitoring integrations.
Stripe is also very compatible with WooCommerce, which allows you to embed the payment form directly on your website. This is extremely useful and increases the likelihood that customers will buy something.
The form itself is optimized for PCI compliance to make sure that your customers' payments are always secure. You can accept major debit and credit cards in over 130 currencies and from every country.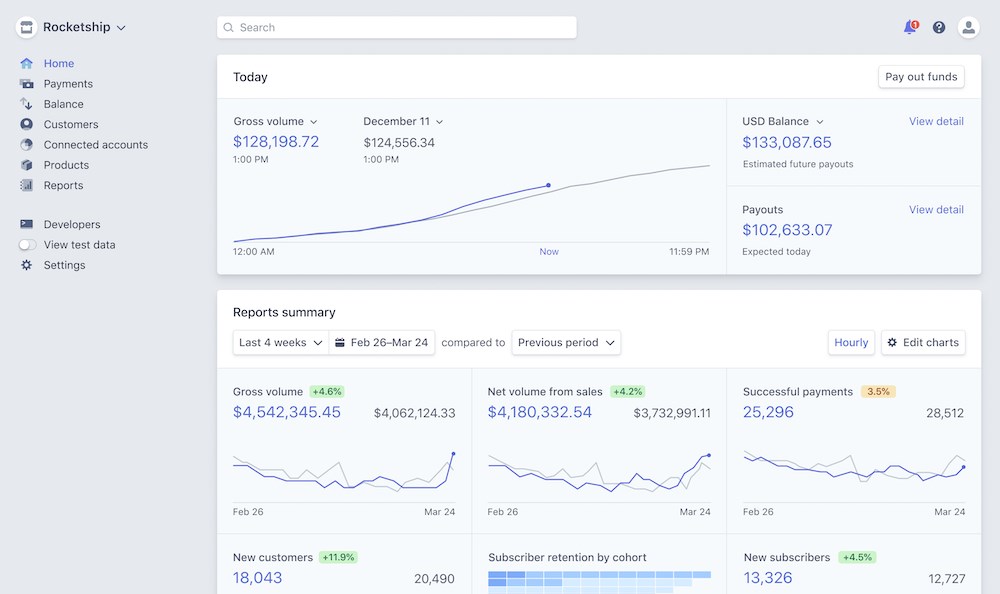 Main Features
12+ payment methods accepted
Embeddable checkout
Build beautiful forms with Stripe Elements
Being PCI compliant is easy with Stripe Elements.
Invoices
WooCommerce plugin available
Financial reporting
Customizable design
Pros
Developer-friendly documentation and features
Excellent reputation for customer support
Costs are in-line with the industry standard
Cons
Not available in all countries
Available Regions
Stripe is available in 42 countries, most of which are in Europe and North America. It is also available in Australia, New Zealand, India, Brazil, Singapore, Malaysia, and Hong Kong.
Payment Methods
Stripe has support for over a dozen payment methods, including credit and debit cards, Apple Pay, AliPay, Google Pay, and more. The available methods depend on your location and type of account.
Fees
Stripe charges 2.9% of every transaction, plus $0.30 per card charge
International charges are an extra 1%
If currency changes are required, add an extra 1%
There are no setup fees or other monthly/yearly fees
Takeaway
Stripe is an all-around excellent choice, especially for those comfortable with coding. We recommend it more than any other payment gateway.
2. PayPal Pro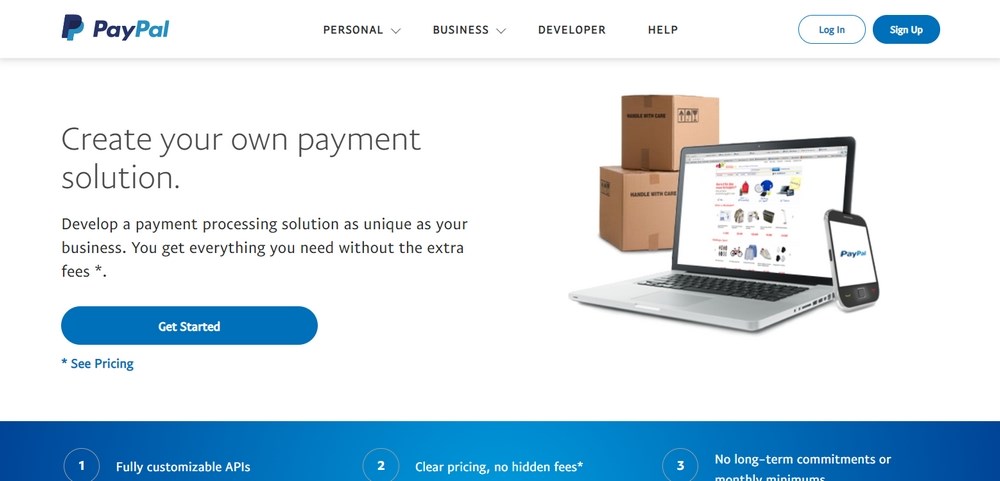 Most people are familiar with PayPal, as it is one of the oldest and most widely used payment gateways. PayPal Pro is their business solution.
It is easy to set up and is globally accessible, with support for more than 200 countries/regions worldwide. PayPal is also very secure, with extensive anti-fraud features like Automatic fraud screening and their Seller Protection Policy.
PayPal Pro has a WooCommerce plugin that makes it easy to connect directly with your WooCommerce store. This makes the setup process relatively painless. Customers don't need to leave your site at all – the entire checkout process can happen on one page. This decreases the likelihood of abandoned carts.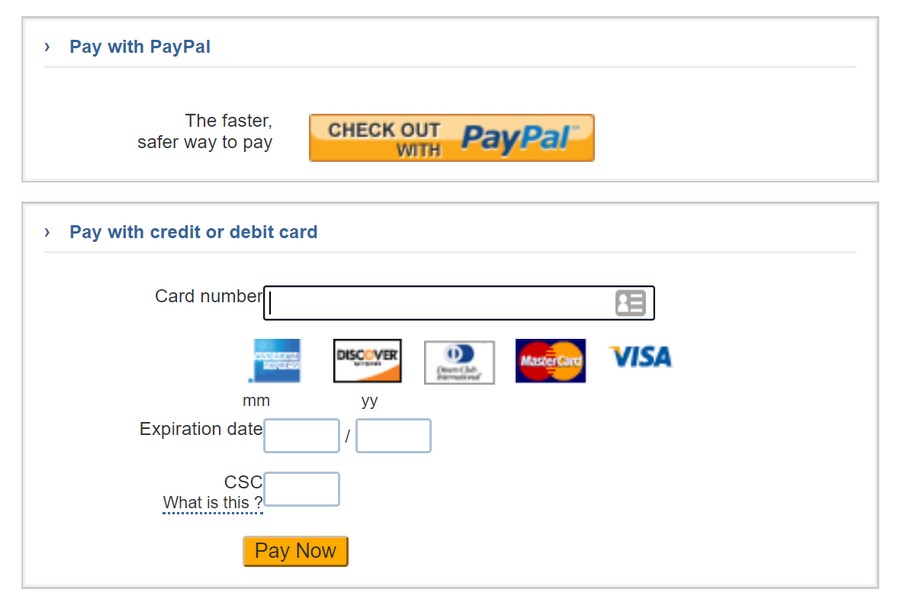 Main Features
Email professional-looking invoices to customers
Customizable API
Access your money in minutes
Accept payments in person from any computer with PayPal Terminal
WooCommerce plugin support
Pros
Universally familiar to most people
Easy to set up and use
Available in most countries around the world
Cons
Less developer-friendly
Monthly fees that some competitors don't have
Bigger company with less of a personal touch
Available Regions
PayPal is available in over 200 regions and countries.
Payment Methods
PayPal supports payments from your bank account, your Visa, MasterCard, Discover or American Express card, and from the PayPal Cash program.
Fees
PayPal's fees vary widely depending on your location and the type of transaction. Their basic fee is 2.9% per online transaction with an extra 1.5% for international transactions, but they also charge $30 per month for the PayPal Pro program itself.
Takeaway
PayPal is the default option for most eCommerce. It's a solid choice if you're looking to set up your WooCommerce shop quickly.
3. Square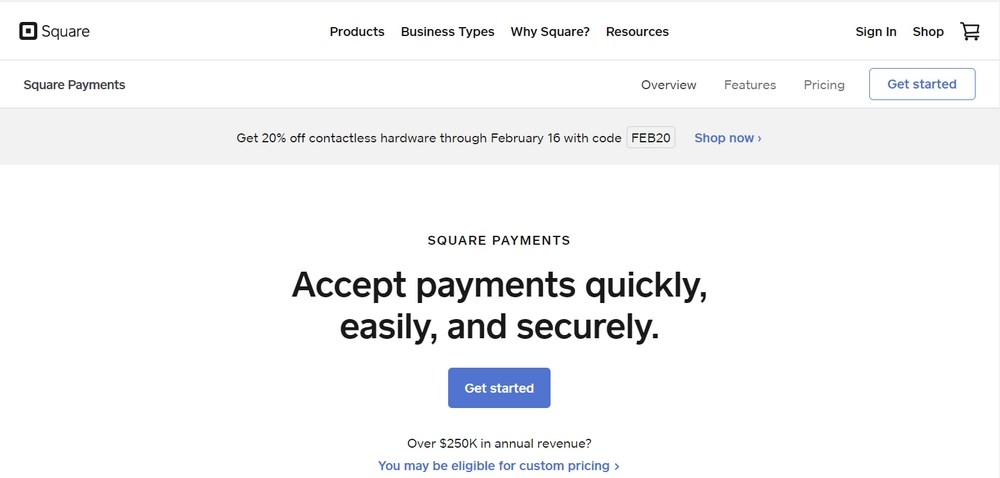 Square is a payment gateway, known for their ubiquitous white square devices. The service is optimized more for in-person stores, however, you can still accept payments online or create an online-only store.
The service is well-designed and easy to use, especially if you have physical products in your shop. There are a ton of options for shipping, tracking, in-person pickup, and other business needs.
There is also a WooCommerce integration plugin, which allows you to take payments both online and in person. This is a great way to always be ready to sell your products while on a business trip, at a conference, or just on the subway commuting to the office.
You can also accept payments from digital wallets like Apple Pay and Google Pay and there is support for recurring payments with WooCommerce Subscriptions and Pre-Orders.
Square is a great choice for small businesses that sell physical products, especially local small businesses.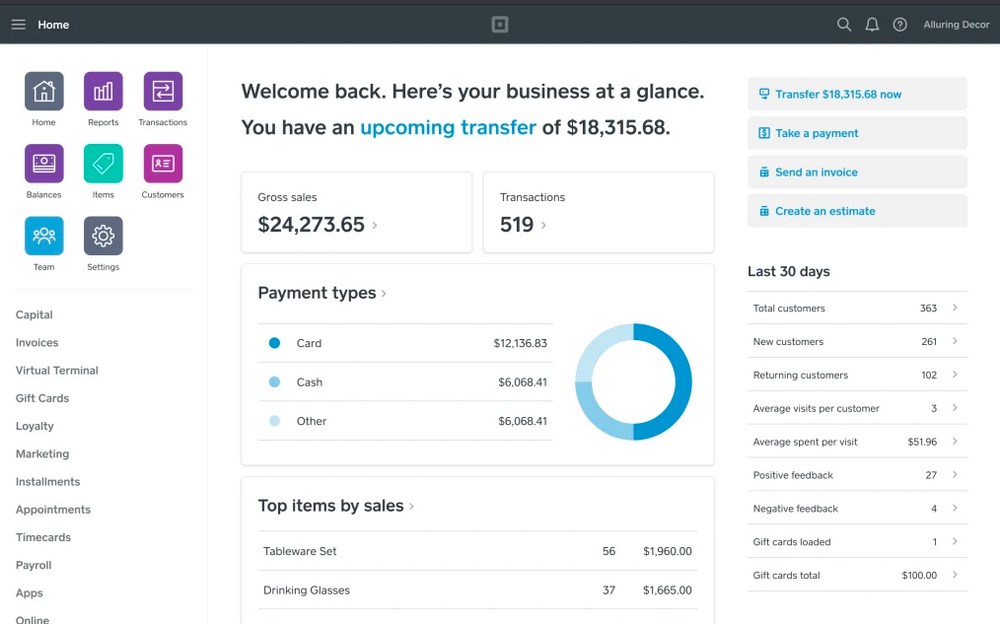 Main Features
WooCommerce support with plugin
Accept payments in person or online
Automatically sync with your in-person Square device
Support for delivery and in-store pickup
Integrated with Instagram
SEO tools and optimizations
Accept a variety of payment options, including cards, Apple Pay, Google Pay, and others
Coupons
Invoices
Appointments
Instagram integration
Pros
Cheaper fees than some other options
Well-designed and easy to use, especially for in-person transactions
Cons
Not available in many countries
Designed more for in-person sales than online eCommerce
Available Regions
US, Canada, Japan, Australia, and the United Kingdom
Payment Methods
Debit and credit cards
Square gift cards
Apple Pay
Google Pay
Fees
2.9% + 30¢ per transaction
Square also offers paid monthly plans that come with extra plans and discounts
4. Authorize.net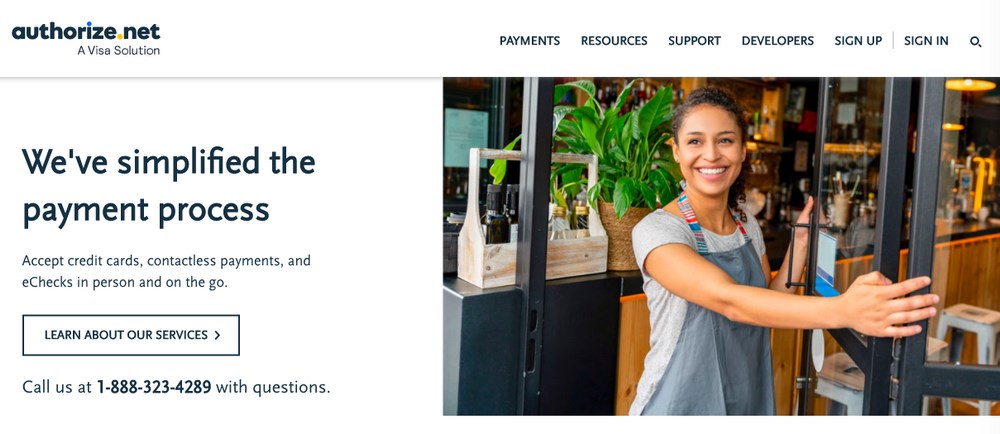 Authorize.net is a payment gateway owned and operated by Visa. According to some sources, it has the most users of any payment gateway in the world. It is ideal for users that have large monthly sales.
The service accepts more types of payment than most solutions, including Visa, MasterCard, Discover, American Express, JCB, PayPal, Visa SRC, Apple Pay, Chase Pay, and E-check.
WooCommerce integration is also strong. The plugin has full support for WooCommerce Subscriptions and WooCommerce Pre-Orders, and the entire checkout process can be done on your own website.
If you're a large business looking for a new payment gateway, give Authorize.net a look.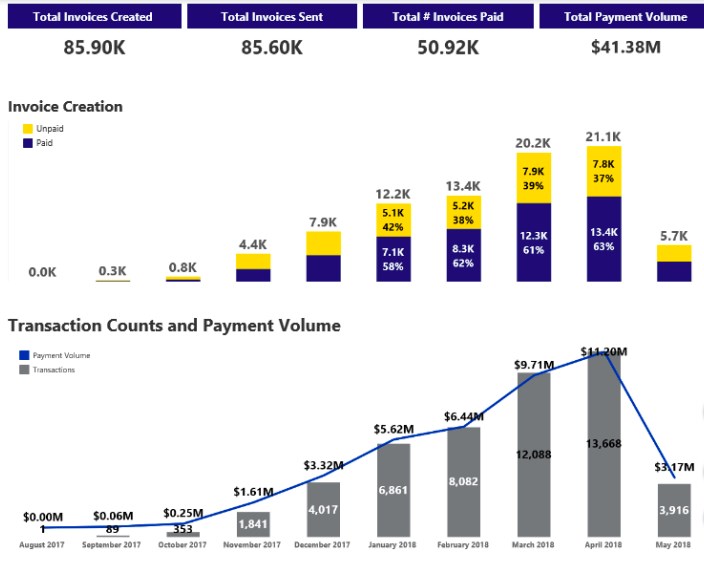 Main Features
Advanced fraud detection and prevention
Recurring payments
Accept virtually any kind of payment
Simple checkout options
Pros
Backed by Visa
Extensive reporting features
Lower rates for higher volumes
Cons
Only available to businesses in the US and Canada
Difficult to set up
Not ideal for smaller businesses
Available Regions
Payment Methods
Visa, MasterCard, Discover, American Express, JCB, PayPal, Visa SRC, Apple Pay, Chase Pay, E-check
Fees
Monthly fee of $25
2.9% + 30¢ per transaction
Takeaway
Authorize.net is a "pro" option for serious businesses. If you're just starting out, it may be overkill.
5. Amazon Pay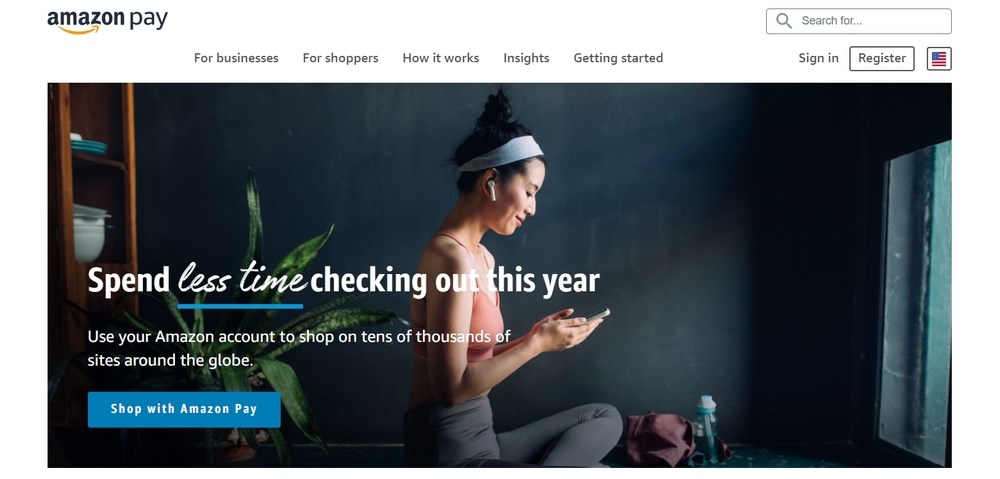 Amazon Pay is the payment solution operated by Amazon. Its key feature is that customers can use their existing Amazon account to make payments on your site for your products and services.
It integrates well with other Amazon services and allows customers to use their same Amazon shopping accounts on external stores. Considering the large number of Amazon shoppers there are, this is a major advantage!
In particular, it helps reduce abandoned cart rates, which are often caused by a lack of trust in sharing credit card information.
Amazon Pay has no monthly fees, other than the fees associated with transactions. This may include foreign transaction fees if the customer is purchasing from abroad.
The service also integrates well with WooCommerce and has a free plugin to help manage the process. Customers stay on your site during the entire checkout process, which makes it even more likely that they'll complete their purchase.
There is also support for multiple currencies, as well as Amazon's highly sophisticated anti-fraud technology.
Main Features
Accept payments on your site
Mobile-optimized
Support for nonprofits, small and large businesses
Customers can pay with their Amazon shopping accounts
Integrated with Alexa for voice-activated ordering
Pros
Easy to set up and use
Makes paying seamless for customers, as most people already have an Amazon account
No monthly fees or other charges
Cons
Amazon itself may be a competitor for your products
By using Amazon, they retain more of your customer information than by using your own payment method
Available Regions
Amazon Pay is available in more than 170 countries around the world
Payment Methods
Amazon Pay has a variety of payment methods available, including immediate charge, deferred payments, split payments, recurring payments, and more.
Price
No monthly costs
Transaction fees are 2.9% plus an authorization fee of $0.30
Takeaway
Amazon Pay is an excellent choice if your customers already have Amazon accounts. This cuts down on consumer indecision and may increase your sales.
6. Apple Pay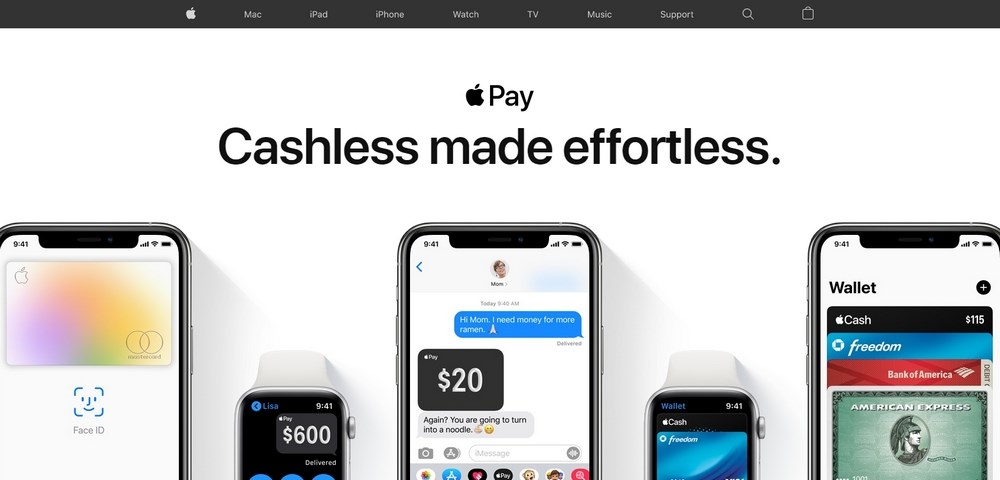 Apple Pay is a payment gateway from Apple. It is designed specifically for iPhones, iPads, Apple Watches and other iOS devices and allows customers to quickly make payments.
Every payment requires the customer to confirm their password, FaceID, or Touch ID, which makes it very secure and cuts down on fraud or other identity theft issues.
Like other Apple products, Apple Pay is very well designed and easy to use. This makes it ideal for those that want an attractive visual experience in their checkout process.
Finally, there is WooCommerce integration via Stripe. You can accept Apple Pay directly in your WooCommerce store on mobile or desktop. This is really powerful, as the one-click checkout cuts down the checkout time by almost 60%.
The easier you can make it for your customers to pay you, the better!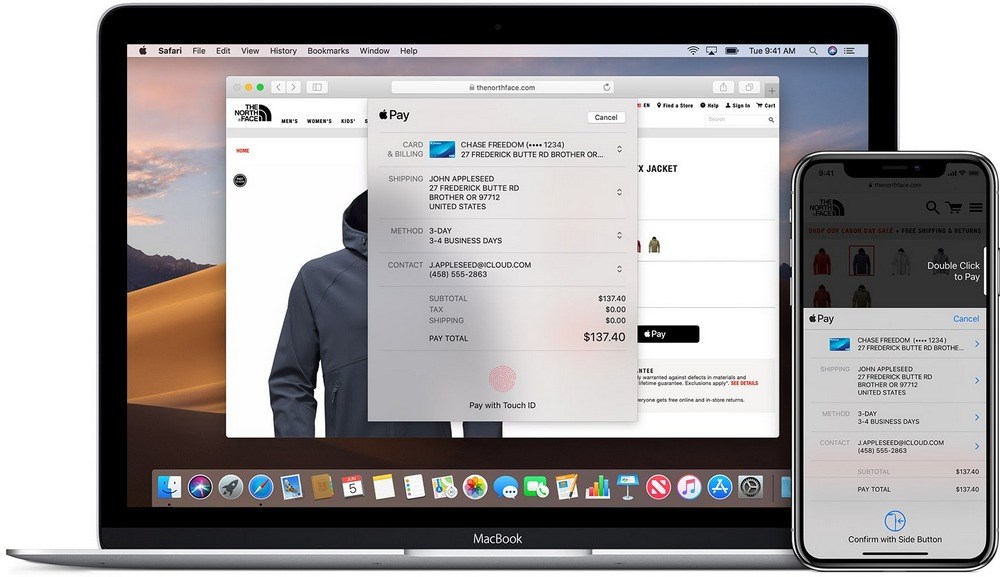 Main Features
Easily allow payments both online and in-person
Accepts most credit and debit cards
Integration with WooCommerce via Stripe
Pros
Trusted brand with a great reputation
No additional monthly or setup fees
Well-designed and easy to use
Extremely easy for customers using Apple products to checkout
Cons
Not available in all countries
Mostly intended for users of Apple products
Integration with WooCommerce is not as seamless as other options
Available Regions
Apple Pay is available in over 40 countries in Europe, North America, Asia, and the Middle East
Apple Cash is only available in the United States
Payment Methods
Most credit and debit cards accepted
Accept in-person cash with Apple Cash (US only)
Price
No additional costs other than what credit card companies charge
Takeaway
Apple Pay is a solid choice for companies that have customers using Apple devices.
7. Alipay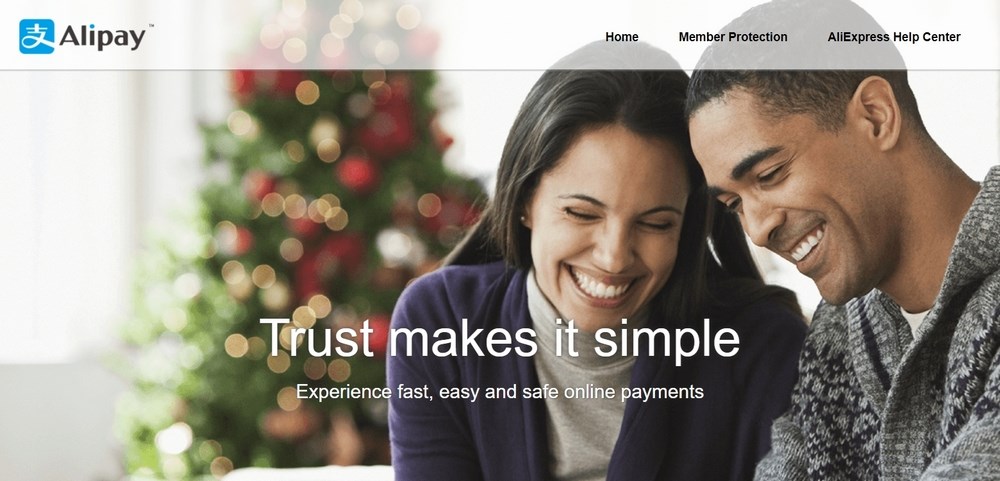 Alipay is an online payment gateway developed by Alibaba. It is currently used by more than a billion users, primarily in China. As such, it is mostly useful if you want to sell to Chinese consumers.
Specifically, it allows Chinese consumers to pay in yuan for products. If you connect your Alipay account to a bank account outside of China, you can access the very large Chinese market of over 1.3 billion potential customers! That's a really big opportunity.
Alipay itself currently has about 700 million users, which makes up about half of the entire Chinese payments market.
There is also a WooCommerce integration plugin available. It's easy to set up, includes comprehensive documentation, supports payment in renminbi (the Chinese currency), and allows customers to pay directly with their Alipay account.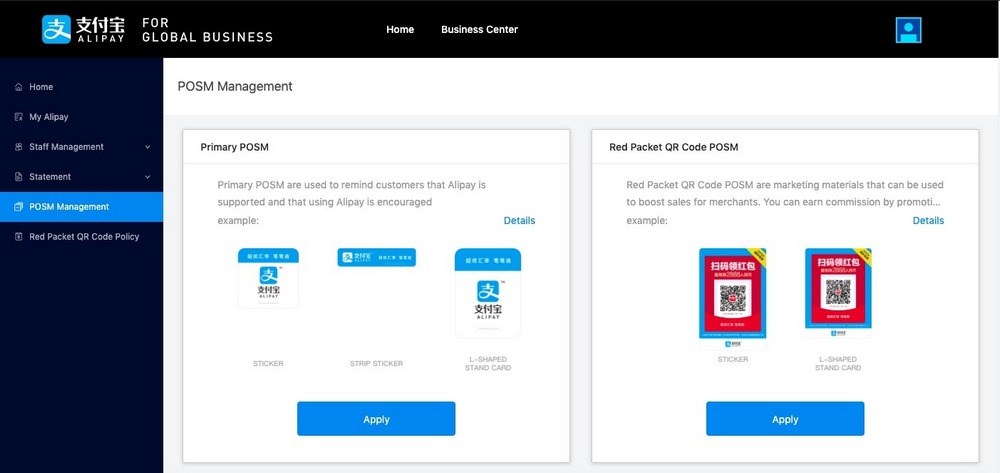 Main Features
WooCommerce integration plugin
Accept payments directly from other Alipay accounts and from credit/debit cards
Effective privacy and payment security
Mobile support
Escrow system makes sure that all payments are legitimate
Pros
Works with WooCommerce app
Access the Chinese market
Secure escrow system
Cons
Mostly just useful to access Chinese consumers
Aimed at Chinese users, so most learning materials and support are in Chinese
Available Regions
Used worldwide, but mostly with China-related businesses and consumers
Payment Methods
Direct payments in the Alipay system
Credit/debit cards
Price
Alipay charges you 0.55% per transaction, for up to RMBY 20,000, which as of DATE, is about $3,100 USD
Takeaway
Alipay is a useful way to access the Chinese market. While it's not particularly useful elsewhere, it is still a great opportunity.
Conclusion
Hopefully this guide was useful in helping you decide which payment gateway to use! It can indeed be confusing to sort through all of the available choices and make a decision but we hope we have helped.
Each option has different benefits and features, but they all work well with WooCommerce. The only difference is that some work better than others in certain situations. Our top recommendations are:
Stripe is a great all-around choice, especially for users that don't mind doing a little customization.
PayPal is perfect for quickly setting up a way to accept payments.
Apple Pay and Amazon Pay are great if your customer base uses Apple or Amazon, respectively.